Old Pics & Events
OUR 50th CLASS REUNION COMMITTEE ROCKS!!! Only active members missing are our great friend Monica Paul Wimmer, who launched our website, and did a lot of calling to locate our classmates and Ron Curtis 64' who did his best to get the 64' class onboard. Now they have 5 years to get onboard for our 55th, Ron.... 3 days again, same venue!!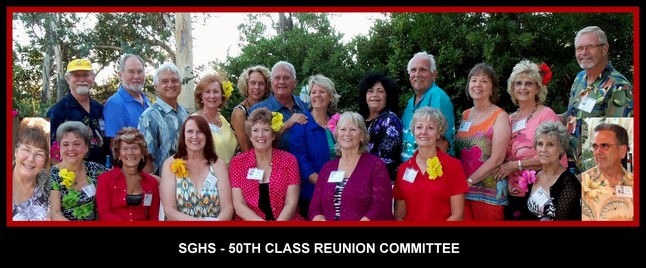 Had to make a little adjustment above and stick Monica Paul and Ron Curtis in the photo.... LOL..... they both DID work on this Reunion, locating and calling classmates, and Monica launched the website and loaded some photos and ALL the classmate names. THANK TO YOU BOTH, you should have been in the Committee Photo!
Classmates can add their own personal photo galleries inside the gallery selections below. Click the images below to enter the gallery area. Then click the "Create Your Own Photo Gallery Here" button at the bottom of the page to participate. Follow the directions on screen to create your gallery. Only you can add photos to galleries you have created, and all photos you add will be credited to you inside your gallery!
Special thanks to Candy Dickinson for this video clip of their tour of SGHS in September 2014. They made special arrangements with the school for this outting. ENJOY...
http://www.dropbox.com/s/v6vhp17xn02zuxg/South%20Gate%20High%20School.mp4
Some of the photo groups below, reflect that there is "1" photo in them, but if you click on the bottom end of the paperclip you will find that there ARE, in fact, photos in them. Thanks! Lu
2 Galleries
5/5/14

Elementary School Pics

| | | |
| --- | --- | --- |
| | | |
| | | |
| | SG Jr High By Monica Paul | |

2 Galleries 2/16/14

| | | |
| --- | --- | --- |
| | | |
| | | |
| | SG Jr. HIgh "Louie" | |

1 Gallery 5/5/14

| | | |
| --- | --- | --- |
| | | |
| | | |
| | Pics 1961-63 | |

3 Galleries 5/5/14

| | | |
| --- | --- | --- |
| | | |
| | | |
| | 10th SGHS Class Reunion | |

1 Gallery 2/28/13

| | | |
| --- | --- | --- |
| | | |
| | | |
| | 15th SGHS Class Reunion | |

1 Gallery 2/28/13

| | | |
| --- | --- | --- |
| | | |
| | | |
| | 20th SGHS Class Reunion | |

2 Galleries 8/15/13

| | | |
| --- | --- | --- |
| | | |
| | | |
| | 25th StHelens/Reunion | |

1 Gallery 2/28/13

| | | |
| --- | --- | --- |
| | | |
| | | |
| | 40th SGHS Class Reunion | |

1 Gallery 2/28/13

| | | |
| --- | --- | --- |
| | | |
| | | |
| | 50th REUNION FRIDAY BBQ | |

1 Photo 10/5/13

| | | |
| --- | --- | --- |
| | | |
| | | |
| | 50th REUNION SATURDAY | |

1 Photo 11/14/13

| | | |
| --- | --- | --- |
| | | |
| | | |
| | Lunch 2004/Multi Yrs | |

1 Gallery 5/6/14

| | | |
| --- | --- | --- |
| | | |
| | | |
| | Candy Dickinson Photos | |

1 Gallery 8/16/13

| | | |
| --- | --- | --- |
| | | |
| | | |
| | Endless Summer Picnic | |

1 Photo 8/16/14

| | | |
| --- | --- | --- |
| | | |
| | | |
| | Fun Places Now GONE | |

1 Photo 8/22/14