South Gate

High School




Class Of 1963
SGHS CLASSES OF 1963 & 1964
WILL COMBINE OUR 55th Class Reunions
REUNION WILL BE NOVEMBER 2 & 3, 2018.
Cost will be $20 for Friday Meet & Greet, and $100 for Saturday Reunion
Start planning and saving now!!!! You won't want to miss this one!!!
More info to come, about food, DJ, Payment, and more....
Monteleone Meadows, Murrieta, CA
http://www.monteleonemeadows.com/
UPDATE: CHECK OUT THE "CLASS CHATTER" SECTION.
You can add and/or comment on it as well. I have also activated the "This Day in History" section, which can be found here on the HOME page, if you scroll down a little, you will find it on the right hand side! ENJOY......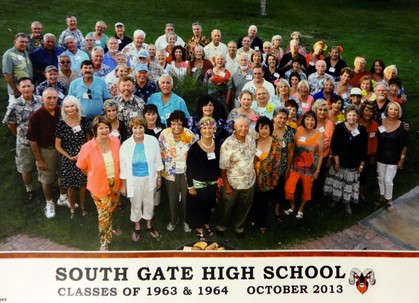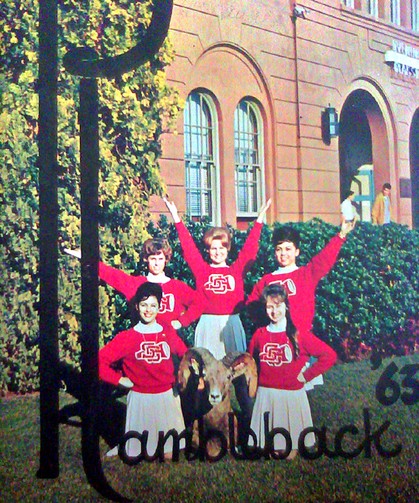 FYI..... If you receive a email requesting that you reset your password.... it is NOT from this site. James Porter said he received such a message!
Welcome to the South Gate High School
Class Of 1963 Website.
PLEASE...Be sure to scroll down to the bottom of each page that you go to, so that you don't miss any information or comments. On the left side of this page are "Topics"... they are "hyperlinks" click on them and go explore, you cannot hurt anything!!
This site is a place for Classmates to come and connect with old friends and share High School memories and new life adventures.
We look forward to utilizing this PLAYGROUND OF MEMORIES ~ and we are sure you will agree, that this is not a place to air old conflicts.... so, play nice or we might have to send you to the office for some "swats".... LOL... remember that?
If you know the whereabouts of someone that has no markings of any type next to their name in the "Classmates Profiles" section, then please put their email address in the place provided on this Home Page, on the right hand side of this screen....just scroll down a little to see it.
This is a work in progress... so please be patient with us. This is a first for us, putting a website together... Like all of us, it will improve with age. Please go in "CLASSMATE INTERFACING" and start and/or join a topic! Get others involved.

F.Y.I. - We need your help locating classmates.... PLEASE direct any classmates you are in touch with to this Website. THANKS!


I'm sure you will find some parts of this that will jog a memory, click on this link below.... enjoy!! After watching "Lost in the 50's", you will need to click on your "back arrow" on the upper left of your screen to come back to this page.
http://safeshare.tv/w/FEDEwZHZXu
KEEP SCROLLING DOWN.... THERE IS MORE......
...............................................................................
AA..
Keep going.... there is more fun stuff to check out!!
Below, is a great video found online.... I'm sure it will hit home for as many of you, as it did me. It was done by a guy who attended Montebello High School.... please, use your imagination and insert "Harvey's Broiler" and "South Gate High School" where he refers to "Whirly"s and "Montebello High"....
ENJOY, "THE BEST SUMMER"
Awwww the best of times!
**************
Click on this hyperlink to view a fun trip down Memory Lane with the Statler Bros. Remember after you click on the link it will take you to another window and you just need to click on your <-- BACK ARROW, to return to our website! ENJOY!!
https://www.youtube.com/watch_popup?v=puGQsQux80k
******************
ANNOUNCEMENTS
•

Hi Classmates.... in the list at the upper left, feel free to use the "CLASS BLOGS" section and start a conversation.... or just join in on one that has been started!




•

Linda Rohrer (Long)
10/07/13 10:24 AM


•

What an amazing reunion!!! A big, big, big thank you to Mike & Hennie (you two are the best hosts ever!), Lu for all the many hours you put into making this event such a success (you were the glue that kept this together), Monica for all your work on the website (you were truly missed), Marilynn for the computer work, etc. and wine tasting event (didn't go, but heard it was nice), Larry for organizing the golf, cars, banners, etc., and everyone else on the committee for their contribution - I think we make a great team!

Can't wait to see you all again!

Miss You All Already - :-( !

•

Hi All...... Would/could not have happened without the perfect venue, provided by Hennie and Mike Monteleone!!! OUR REUNION COMMITTEE ROCKS!!!! THANK YOU ALL!

I have already put the photos from the Friday BBQ on Facebook and on the class website, under the topic "Old Pics and Event" then click on the album '50th Friday BBQ', there are about 33 photos in that album.

I will be working on photos and videos from the AMAZING SATURDAY NIGHT reunion and would love if you could burn a CD of your photos and mail them to me at:
Lu Patterson Clayton
818 W Upland Ave
San Pedro, CA 90731.... I plan to take time to crop, enhance and soften (LOL) the pics and burn a DVD of all pics and will sell it for my cost & shipping.... Info will come via the class website..... PLEASE USE THE WEBSITE..... It has my heart and soul in it!!! You can make announcements there with your comments about our 50th reunion.... I just sent out a notice FROM the website, telling you how to do that.... please take time to say something there. WE truly "Raised the bar" for any reunion!

LOL.... TOO MUCH FUN!!!!

Love you all!!!! Lu "Louie Patterson" Clayton

•

Hi Everyone,

What a wonderful, wonderful,wonderful week-end, thanks to everyone's planning and hard work! I just can't say enough about this reunion, certainly the best ever!! Can't wait to see everyone again so we can "de-brief" about the week-end and starting deciding when we want to have the next informal gathering of classmates !!

Hope everyone had a safe trip home, plus a nap when you arrived home, as I certainly crashed when I got home.

Hugs to you all........

Judee

•

Ditto, ditto, ditto .... When I got home I told my family what a great success ... all the planning and hard work paid off because EVERYONE said this was by far the best reunion .... Thank you Mike and Hennie for your great contribution in making this all possible. You went beyond our expectations .... and we can't thank you enough. Marilynn.

•

Michel Ann Piazza-Walters Can't remember when I have had a more enjoyable weekend and to have it with people I have remembered since high school and before makes it even more endearing.

•

Wow...............What a reunion!! Mike and Hennie sure know how to put on a party. Thank you to all the committee members for making Diane feel like she was part of our class.



Lu I will send you a DVD with a couple of HD videos I took of everyone dancing. I will include the pictures we took during the reunion.

Patrick & Diane

•

•

•

Gail Espitallier (Raabe)
10/08/13 09:31 PM


•

Suzi Stevenson (Johnston)
10/08/13 09:49 PM


•

Date: Wed, 9 Oct 2013 08:29:11 -0700

LOUIE: Sorry I was not able to attend the reunion. I was in Key West for three weeks on a trip I planned over two years ago. It seems everyone had a grand time. I WILL attend the next event. Great job on the web site. I saw the comment from Mike about having another event in five years. Having worked for an insurance company, many of us may not be around. The highest rates of passing on are from 71 to 77 in the U.S. Something to think about. I took my father to his class reunion (San Diego High School, class of 1938) 75th and apparently there were only 17 class-mates left out of a class of 405. Good luck to us all............Bill Cornett

•

| | |
| --- | --- |
| From: | Dixie Murray |
| Email: | |


John and I both had a WONDERFUL time at the reunion 10/5/2013. So many of you worked long and hard on it, and it was fabulous in every way.

•

Thanks for all you did to make the 50th such a great event.

Thanks, Dixie Dugan Murray & John

•

•

Hi Lu: John forwarded to me your email about photos of our fabulous SGHS Reunion. I will burn a CD tonight and take it to the P.O. tomorrow (10/10) We both had such a good time! Even though I didn't know many people because I only went to SGHS for the 12th grade (my family moved in next door to John before the 12th grade and 'the rest is history, it was an awesome time!!! I did know Gail Raabe pretty well because I drove us to college for a year. Everyone was soooo friendly and fun, the grounds and lake with swans was beautiful and the food was good. Thank you for all the work you put into the Reunion! Dixie Murray

•

| | |
| --- | --- |
| Title: | RE: Did you have fun at our 50th Reunion? |
| Thread: | Did you have fun at our 50th Reunion? |
| Forum: | DID YOU HAVE FUN AT OUR 50th REUNION? |
| User: | Terry Shea |

Louie, Mike and Hennie and all the Reunion Committee - can't thank you enough for an excellent event. You can be proud that all the planning, meetings, e-mails resulted in a weekend that will be remembered by all that we're able to attend. Can't wait for the next one. Terry

•

RE: Did you have fun at our 50th Reunion?
Posted Wednesday, October 9, 2013 10:56 AM from 69.236.17.97


The reunion is an event I will remember (hopefully) for years to come. It could not have been better. I had a fabulous time. Mike Montelone and his wife went above and beyond when it came to hospitality and making everyone feel welcome to their fabulous venue. It was wonderful to see old friends and chat with new ones. A special thank you to Lu and the reunion team. You did yourselves proud. I am so thankful I attended and look forward to another one down the road. In the meantime, my knees are recovering from dancing! If anyone did not attend, please come to the next one - you will not be disappointed. EVELYN RENTSCHLER SWINDELL W'63

•

Larry Fister - 50th reunion
Posted Tuesday, October 15, 2013 10:29 AM


It was such a great pleasure to see and spend time with old friends and class mates. The venue was tremendous and the hosts couldn't have made it any nicer. What great memories came back for all of us!

•

•

Received via email:
Lu, This is really nice of you for putting this DVD together for everyone and everything that you have done for this reunion. I can't imagine the time and effort that you have given for your classmates. A BIG "thank you" to you.

Arnold & Marene Forget

•

Marv Ladd
10/28/13 05:52 PM

•

Date: Tue, 29 Oct 2013 11:42:09 -0700

Hi Louie:

I am writing for two reasons:

First to tell you what a great job you did and recognize the hundreds of hours you all dedicated to the Reunion. I am keenly aware of all the work that goes on behind the scenes having led special events myself. Thanks for stepping-up. We were on the north coast at Bodega Bay with five other couples (very close friends) and it was our turn to host but my heart and brain kept wandering back to southern California during the weekend.

The second reason I am writing is to see how I can get any final publication you come up with that includes photos, etc

Thanks Again for your dedication.

Mike Garver

•

Via email from Ann Fulkerson Williams

You and your committee did such a great job. I've thought about our good time so often. I'll be sending you a check for the DVD . THANKS AGAIN. Ann

•

JANUARY 22, 2015 - Please participate in the survey sent out today. Give us your thoughts/opinion on when you all want our next Reunion to be.