In Memory
Lucia Inga (Kondas)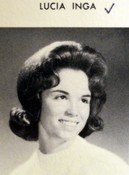 Lucia was in the summer class of 1963. She passed on October 12, 2011 at the age of 65. She was shot at a beauty salon in Seal Beach.
Oct 2011
Lucia Bernice (Inga) Kondas, 65, a client at the salon, was a retired healthcare supervisor who lived with her husband, Michael, in a gated community near the water in Huntington Harbour.
She worked for the Orange County Health Care Agency's Alcohol and Drug Abuse Services program before retiring in 2000. Agency officials called her an "intelligent, generous and compassionate individual who will be missed by many."
Neighbor Bill Trujillo said he saw her four or five times a week walking her dog. "She always had time, always had a smile on her face," he said.