In Memory
Sharon Pierce W'63 (Roberts)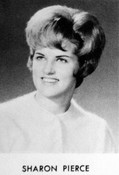 Sharon Martha Pierce (Roberts) a Payroll Technician, Passed away Tuesday, October 4, 2011 in her Visalia CA home. She had a 4 year battle with Cancer.
Sharon was born March 25, 1945 in Fresno, CA to Thomas and Martha Pierce.
She had 3 siblings, Don, Bob and Patricia Pierce. She married Kenneth Marsh Roberts in 1963. She worked as a special education instructor and later became payroll technician for 25 years for Visalia Unified and Sierra Sands Unified.
She is survived by her husband, Kenneth Roberts. 2 siblings; Bob Pierce from Los Angeles, and Patricia Farmer of Lake Havasu City, Arizona. 3 children, Gina Wallace of Madera, C; Jon Roberts and Ron Roberts of Cleveland, Mississippi;
8 grandchildren; Jessi Marie Wallace, Randi Leanne Wallace, Wade Allan Wallace, Chad Wyatt Wallace, Reed Kenneth Roberts, Reily Ann Roberts, Ryan Walker Roberts and Brad Mathew Wallace.
Along with countless cousins, nieces, nephews.
The family would like to thank everyone that sent love, prayers and supported Sharon in her battle with Cancer. Love you to the Moon and Back.