In Memory
Sandy Stewart W'63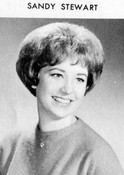 Via Ron Curtis 10/18/13:
There will be a memorial service for Sandy (Stewart) Tanner on Saturday October 26th at 1:00 pm. Location is: LDS Church @ 29441 Altisima, Rancho Santa Margarita, 92688.
Sad info Via A posting in Facebook by Ron Curtis 64'
10/06/13
A "BIG, THANK YOU!!" to all that helped on the reunion. Ron and Jan sure did enjoy our weekend. I don't like to put a damper on things but I just received a phone call from my sister and many of you knew my cousin Sandra (Sandy) Stewart. She passed. She was preparing to get on a lung transplant list and needed a colonoscopy. They put her out to do the procedure and she never recovered.